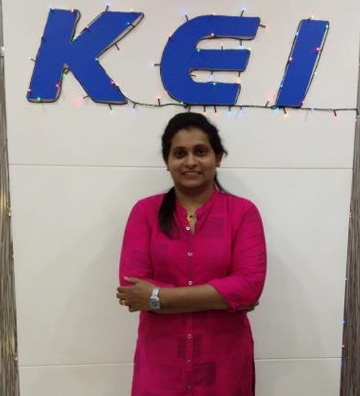 I am married and blessed with 2 kids and a pure Mumbaikar by heart. As far as my education goes; I have done Diploma in Electrical Engg from K J Somaiya Polytechnic. I joined KEI as a Sr Sales executive in November 2003 and since then there has been no looking back. I have grown in KEI from Sr Sales Executive to DGM Marketing. (Grade E3, E4, E8). This journey of 14 long years hasn't been an easy one, but definitely full of learning and opportunities.
I am confident that the support and freedom of authority I got here, I wouldn't have got in any other organization. I have had the opportunity to work in several departments – Execution, HR & Admin, Commercial, Business Development, Sales & Marketing (Distribution, Institution & Export). This exposure to different functions that hold an organization together has helped me grow not just professionally, but also personally.
If I have to talk about one thing that transformed my life forever, it has to be motherhood. Becoming a mother is a blessing, but striking a balance between your work and personal life is not an easy job. Today after so many years, I feel like terming myself as a millennial woman; empowered to have complete control of my life, both within and outside of home and workplace. This was only possible because of 2 things; my family and my mentors at KEI. My spouse is a very progressive man who believes in my capabilities and never held me back from flying high. There were times when I had to leave something pressing in KEI for my child, at that time my mentors supported me, trusting my ability to cope up. There were also times when I had to give priority to work, at that time my spouse supported me by taking responsibility of home. It was purely the understanding and support of people around me that helped me strike a balance.
Most memorable moment in KEI
Every year at KEI Annual Sales Conference- I see I am the only woman representing Marketing.
Message I would like to give to all the younger members of KEI
Specifically Girls – Always use your strength being a woman; don't hesitate to work in Marketing. Be open to travel, meet new people every day and don't limit yourself because you are limitless! Young Boys – Always be keen to learn and set a goal for the next 5 years and start chasing it.
My mantra in life
Smile is the key of winning everybody's heart so keep smiling.
KEI lauds the work success of women like Ms. Pramoda Shetty and hope everyone learns from her wisdom and achievements.