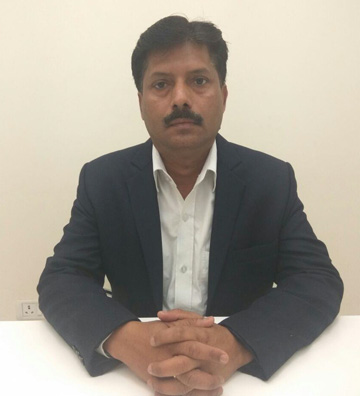 I joined KEI in the year 1993 as a production supervisor with a qualification of BE. I was amongst the first lot of production engineers hired at KEI. Hardwork, perseverance, discipline helped me blossom in this organization and today, I am working as a DGM -Design in EHV division.
I firmly believe there is no shortcut to success. If you have a dream, go chase it! During my stint at KEI I handled multiple departments such as production, quality control, marketing, EHV. These multiple roles not just enhanced my functional knowledge, but also gave me a global exposure. My most memorable moment was when I was sent to Switzerland for an exhaustive training to better cope with newly assigned EHV responsibilities. These changes
in roles also brought in change in locations. I have had multiple transfers and this for a married man with 2 kids wasn't an easy task. Shifting base of the entire family was challenging as it disturbed my kids' education, but my spouse was very supportive all throughout. She had witnessed my dedication and sincerity towards the organization and
hence, she helped me tremendously take this plunge every time. I believe we all in this journey of building our careers sometimes get oblivious about the efforts our support system offers. I have never committed this mistake and would recommend others also to value their support system and not take things for granted.
If I have to talk about my strengths the most important strength of mine would be loyalty towards everything that I do. Be it professional or personal life, I am completely invested. Probably this is one of the reasons behind my long stint at KEI. Another important quality/strength is humility and politeness. Your words can make or break relationships, hence, always be very careful with your words. This is one important message I would like to convey especially to the younger generation. I feel extremely happy looking at young, passionate professionals full of enthusiasm and zeal. However, one thing I have also noticed in common is lack of patience and too much aggression. There is a thin line between assertion and aggression and we shouldn't forget that.
Now when I look back at my journey with KEI, I realize it has been very fulfilling and enjoyable. Some of the mentors I would like to thank are Mr. K C Sharma, Mr. Rajeev Gupta, and Mr. Manoj Kakkar. These people were always there for me through my thick and thin. My Mantra in life: In my 25 years of career I have had a first-hand experience of so many innovations at KEI. Things always look difficult in the beginning, but confidence in yourself
and clarity of thought along with hardwork is surely a recipe to success.
I joined the KEI Family in the year 2005 as an Assistant Manager – Accounts & since then KEI has become an integral part of my life. Today, I work in the capacity of AGM Finance in our Silvassa Factory. For me, KEI has been my home in a literal sense because me and my Life Partner; Mr. Shailendra Baheti have been working with KEI seamlessly embracing not just personal struggles, but also professional challenges together. It is very rare for an
organization to motivate and further accentuate this sacred bond.