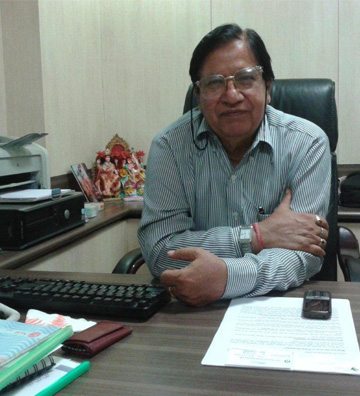 I joined KEI in the year 2005 as a President of the company. Prior to this I worked with Birla Group for more than 35 years. My journey from an engineer to President was long but exciting. My ability to stay focused and dedicated towards my job helped me scale new heights in my career every time. I have always considered KEI as my own company, feeling the pinch of every hurdle and joy of every milestone achieved. In the year 2005 when I joined, the turnover of KEI was around 200 crores plus and in less than 2 decades we have grown into a 3500 crore company with a vision to cross 5000 crores in the next year. I very vividly remember my first significant contribution; adding medium voltage XLP cables to our existing product basket. The most challenging task was to build a team who understood our future aspirations to grow the company and had the focus and determination to work towards our common goal. Slowly and gradually we build a team that became a family, having the same fire in the belly that we had.
In the next few years my dream and aim is to see KEI manufacture and supply 400 KV cables successfully. Currently the samples have been made and are under testing. I am hopeful the same will start getting supplied across the globe extensively in two years time.
Most Memorable moment in KEI
Every feet achieved by KEI was memorable for me. Whether it was collaboration with Brugg Kabel – Switzerland, getting approvals for 220 KV or crossing 2000 crore turnover. We celebrated and seized every such precious moments that will remain forever unforgettable.
Message for younger Generation
I am a firm believer of the saying, 'A rolling stone gathers no moss'. You will experience a couple of ups and downs in life, but staying focussed and dedicated will help you get there. Secondly, always remember to have a balanced work life. If you are not happy with your personal life, you will never be able to grow professionally. I have an extremely supportive spouse and 2 beautiful children who have supported me throughout and this lets me blossom in my professional life. Lastly, there are no excuses in life. I am 75 years old and never let my age come in between anything I wish to do. I work, I go for a swim, I do regular exercises, and have fun with my family & friends whenever possible. Age or any such block of your mind is superficially created by yourself. Come out this block and you will experience beautiful things happening in your life.